SurgRx needed to develop a generator to power their new line of electrosurgical devices. It needed to accommodate multiple units of different types simultaneously, without confusion or operator error. Its touch-screen control surface had to be environmentally sealed, easily cleaned, and usable while gloved.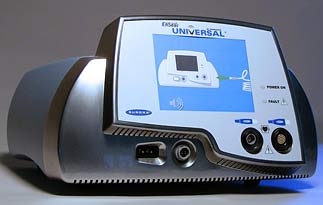 Cooling of the electronics was critical while keeping the noise level low. SurgRx wanted a design that was easy to assemble inhouse, and had the appearance to match their new device line.
Strategy
---
The relatively low quantities meant that we had to carefully choose processes that gave us a high level of finish without high tooling costs. The electronics assembly needed to be free-standing for off-site sourcing, so the outer housing

had to be designed to assemble around electronics assembly.
Solution
---
The bezel is a RIM urethane part to allow easy attachment of the display and connectors, while the rear housing is pressure formed in one piece. The two outer parts screw to the internal chassis, making assembly a quick "slidetogether" operation, with a minimum of fasteners and adjustments needed. The internal sheet metal is designed to selectively cool the hot spots while keeping fan noise to a minimum.