SurgRx was selling a tissue cutting/sealing device but was having problems with usability, manufacturability and manufacturing costs. While the device was selling well and had a superior feature set, the competition was strong and Marketing wanted something visually more appealing to base an entire product line on.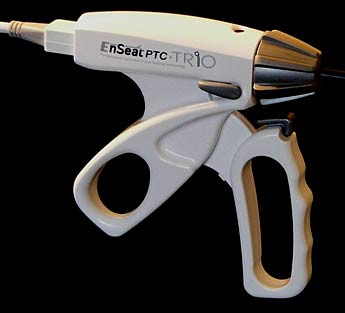 Strategy
---
We surveyed all of the interested parties: Manufacturing, marketing and sales people, and surgeons who had used a wide range of similar devices, to determine what was important in the product. We started with several iterations of quick working mockups to establish size, mechanical layout, and user interface. The next step was a set of foam appearance models. A SolidWorks 3-D computer model followed, and with a few minor changes, the product went quickly into production.
Solution
---
The EnSeal handle integrates many functional modes in a way that allows the surgeon to anticipate and control all of the handle s features. There is a safety lock with a visual indicator to help avoid premature cutter activation, and the handle shape allows users with different sized hands to actuate the unit without fatigue throughout a lengthy procedure .
SurgRx's V.P. of Marketing said: In all my years in medical marketing, I have never had a product that was so seamlessly introduced and well received as this one.