SurX had developed a technique for reducing incontinence in women after childbirth by shrinking the Endopelvic Facia with R.F. energy. It needed to be small, highly controllable, and comfortable to use. It had to establish a recognizable visual theme for future SurX products, and give an image of high quality and reliability to the new company.
Strategy
---
Our first phase was a series of sketches that presented six different functional approaches to hand position, trigger placement, and tip alignment, with each making a strong visual statement.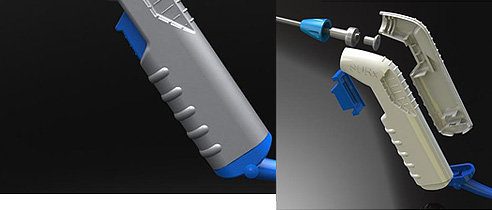 After making an initial choice, a series of detailed foam models helped to fine-tune the final design. The solid computer model was used to produce prototypes for testing of the product.
Solution
---
The case and tip are molded ABS assembled with a continuous ultrasonic rib to produce a splashproof housing. The rubber trigger and bottom cap complete the case seal. The tip assembly carries R.F. power and saline drip, and rotates to allow tip alignment independent of a comfortable hand position. The series of ribs and indents allow for a wide range of grip positions for different sized hands while giving a secure feel to the product. The end result is attractive, distinctive, rugged, and easy to produce.